Hey Zilvia, this is Andy @ Force Engineering. We wanted to open up our Dyno Day to the Zilvian community and let you know about our dyno tuning services.
We have an in-house MD-150 AWD/2WD Mustang Dyno that was just calibrated. This is as accurate as it gets!
We plan on having a dyno day May 18th at our location in Plainwell, Michigan. This will include a special rate of
$65
for two pulls.
Our Dyno is low car friendly!
Please sign up here if you'd like to dyno your car:
Dyno Day deposits
Event will start at 9:30am, will have the first car strapped and ready to roll at 10:00am. We will roll cars until 7:00pm!
SPECIAL ANNOUNCEMENT-
We will refund the highest horsepower car its dyno day payment. If you stick around and have the highest horsepower you will get your money back.
Tuning:
We also offer dyno tuning services on virtually every tuning system! We have experience with ECMlink, AEM Series 1/2/EMS-4, ACCELDfi, Open source tuning, ECUflash, etc. If you have it, we'll find a way to tune it safely!
We just tuned this Evo 8 on AEM V1 last week, when it came in it made 270whp with a bunch of knock; when it left it made 524whp/499wtq! This is a 2.3 stroker with a S259 in a single-scroll T3 .55 housing and HKS cams. Boost was 34psi, and fuel was E85.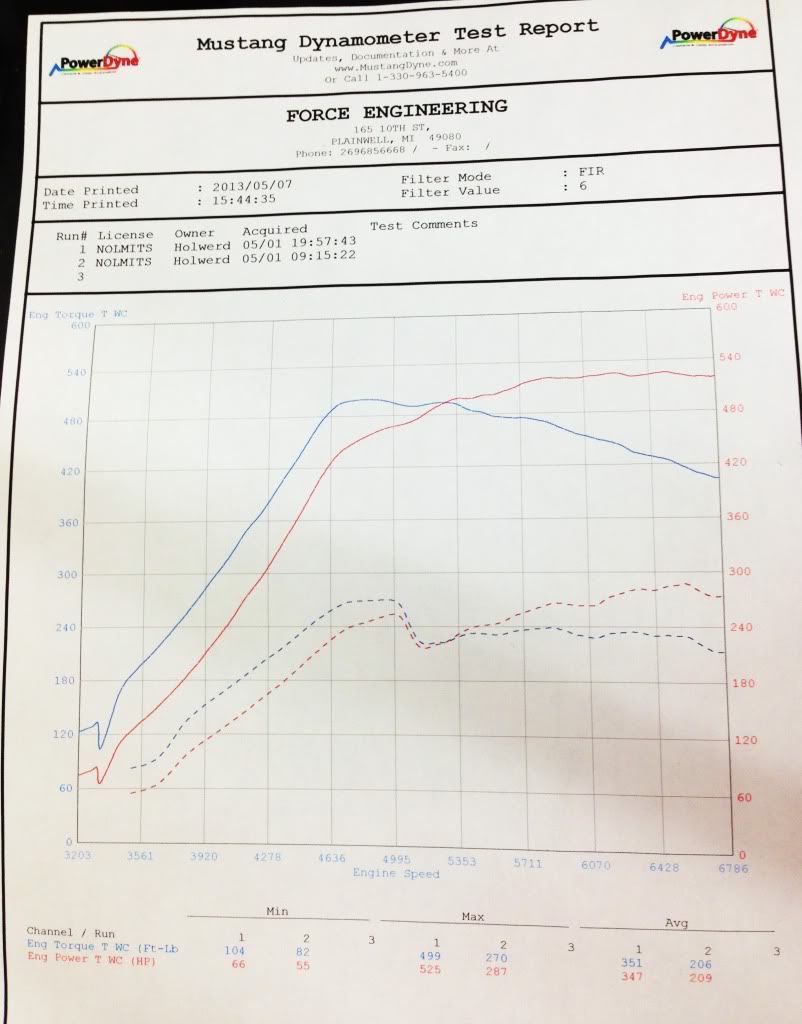 A video of the final pull is here:
https://www.facebook.com/photo.php?v...type=3&theater
Please visit our website for tuning rates here:
Mustang AWD/2WD Dyno Service
Give us a call or PM me for any of your other tuning needs!
269-685-6668
Check out our facebook page here:
https://www.facebook.com/pages/Force...041319?fref=ts